We constantly upgrade our machinery so that you enjoy the best our field has to offer at any given time. We offer the most edgy mix of infrastructure for the integrated production of carton packaging, packaging for promotional uses, complex floor stands and various other capabilities. No other company in Greece has such an impressive variety of massive machinery, complex capabilities and capacities. However, no matter how impressive our machinery is, our strongest "machine" is our workforce; our people's skills, their know-how and all our other qualities that constantly expand.
We study each case separately and adjust our tailor-made action plans, combining both tested and innovative techniques as well so that we cover every requirement individually. We are the only Greek company and one of the few in Europe that support the integrated production of special packaging cartons and boxes for food and detergents that require Barrier Protection and paper & cardboard waterproofing with PE or Metallize.
Our manufacturing capabilities are not popular by accident. Here are a few examples of our services with the widest demand:
Printing on PVC and cardboard coated with Metallize or PE or other complex modern materials.
Wide variety of cardboards with specific configurations (with internal or external coating of PE, PP, METPOL, PET, Greaseproof / Moisture proof, etc.), special non-toxic & odor-free inks, low migration varnishes and adhesives for packaging intended for frozen or deepfreeze food or in direct contact with food, according to the instructions of the German Federal Health Office (BGA) of the food and Drug
Administration and the EU Guidelines for Food Packaging.
Printing quality inspections and control using special scanners and densitometers, integrated with machinery.
Automatic rejection of boxes that do not conform to the relevant specifications during welding.
Automatic installation of special internal support in detergent boxes during welding.
Protection Coating, water or UV, various laminations, window pasting, easy-open tape pasting, gold foil stamping, embossing, de-bossing and various specialized sealants (straight line, lock bottom, various tapered boxes with 4-6 corners or unusual shapes), in automated gluing and welding machinery.
Lamination with 2-ply or 3-ply F-Flute, E-Flute, B-Flute, C-Flute and 5-ply E-B Flute.
2-ply mini well B+E production and INLINE lamination via our new Corrugated machine.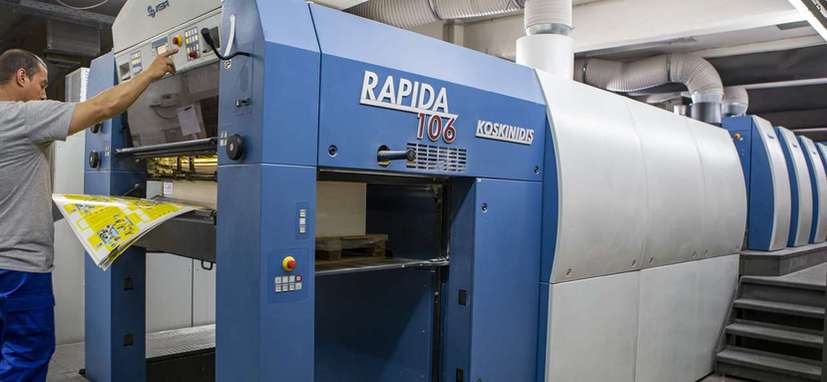 Offset printing


Corrugated board production


Special processing of paper


Packaging welding